Post by TheBug©® on Mar 20, 2007 13:38:12 GMT -5
On January 4, 2004, Ray Davies, a founder of The Kinks, was shot in the leg while chasing two muggers. Mr. Davies had been walking in the French Quarter of New Orleans when the attackers grabbed his girlfriend and threatened to kill her unless he turned over his money. He did so, but after they released his girlfriend, Ray took off after the muggers. One of the muggers turned and shot him in the leg. Ray Davies made a quick and complete recovery...
www.cnn.com/2004/SHOWBIZ/Music/01/05/davies.shot/index.html
...at least, that's the official story.
A researcher I know has informed me otherwise. One night after returning home from a Star Trek convention, a strange feeling came over him. He put down his tribbles, took off his Charlie Brill costume, collapsed in his bean bag chair, and started channeling the spirit of Ray Davies. He got his laptop and typed out the true story behind the events of January, 2004. After he came to, however, he had no idea what he had typed because it was all in Portuguese. For some reason, he emailed it to me to see if I could make heads or tails of it. While staring at my screen, my computer suddenly started channeling the sprit of Pedro Álvares Cabral, the famous Portuguese explorer, and the document magically translated to English. The story describes a remarkable event with ties to the Kennedy assassination and the murder of John Lennon. (The original document in Portuguese will be presented here once the Korean War is over.)
Sunday evening, January 4, 2004
Ray Davies and his girlfriend had just finished a fine meal at a restaurant in the West End area of New Orleans. They were driving along Lakeshore Drive, which runs along the shore of Lake Pontchartrain, heading east. As they reached the oft deserted area near the University of New Orleans Assembly Center, a dark mini-van with tinted windows suddenly pulled out from a parking space causing Ray to slam on the brakes. There was not enough time to stop completely and Ray's car gently hit the mini-van. At the same time, another mini-van of the same type pulled up right behind Mr. Davies' car. Armed men jumped out of both mini-vans, took hold of both Mr. Davies and his girlfriend, blindfolded them and put them in one of the vans and drove off after which Ray was heard to say, "You really got me.". A couple of the other armed men took care of driving off the other two vehicles. The girl was not needed, but they wanted to make sure that if she talked, no one would pay attention to what she was saying. Therefore, she was made speech writer for Mayor Nagin.
Ray was held in a secret location in New Orleans East, waiting for transport to the special and secret "Adam Weishaupt Training Facility
®
" in California.
Mr. Davies had just been awarded a CBE (Commander of the Order of the British Empire) the previous week and was about to revive his career as a pop icon. This could not be allowed. Lennon was gone and the other 60's era icons were aging and dying off. Now was not the time for a revival of a leader that could become a cultural and political force. Meetings were held, and it was decided that Mr. Davies would be dealt with one way or another.
The initial choice was to get him to one of the special CIA training facilities that had been used to train people like Oswald and Charles Manson. They had the team. It had all been done before.
The group to handle this project was the CIA affiliated group "The Directorio Revolucionario Estudiantil (DRE)", a militant right-wing, anti-Communist, anti-Castro group based in New Orleans. The leader was an old associate of Carlos Bringuier who was the leader of the DRE back in August 1963. On August 5, 1963, Lee Harvey Oswald visited Calos Bringuier at his clothing store in New Orleans and offered to join the fight against Castro. Two days later Oswald again visited the store and left his Guidebook for Marines for the absent Bringuier. On August 9, 1963, Lee Harvey Oswald was handing out Fair Play for Cuba leaflets. When Bringuier learned of this, he and two other Cubans, Celso Macario Hernandez and Miguel Mariano Cruz, confronted Oswald and a fight broke out. Oswald and the three Cubans were arrested. (As a personal aside, this arrest happened right across the street from where I work.)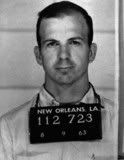 According to expert researchers like you find on TKIN, Lee Harvey Oswald either joined up with the DRE conspiracy to assassinate Kennedy, or the DRE conspiracy framed Oswald himself to take the fall. The researchers write, "the conspiracy to assassinate President Kennedy required that the conspirators be associated with Oswald -- whether he served as coconspirator or (as he claimed) a 'patsy'"
Where have we heard this before? Is this the only time the CIA/Cuban exiles have used a patsy for assassination? No.
Remember Jose Perdomo? He happened to be the doorman at the Dakota on the night of December 8, 1980. Newly discovered information about Jose Perdomo suggests he was John Lennon's true assassin and Mark David Chapman was merely a patsy who confessed to the crime while under the spell of relentless mind control techniques such as hypnosis, drug abuse, shock treatment, sleep deprivation, and so on. Perdomo was tasked to provide security for Lennon at the rock star's upscale apartment complex, the Dakota, the night of the murder. Records reveal a "Jose Joaquin Sanjenis Perdomo" (aliases: "Joaquin Sanjenis" and "Sam Jenis") was an anti-Castro Cuban exile and member of Brigade 2506 during the Bay of Pigs Invasion in 1961, a failed CIA operation to overthrow Fidel Castro. Here again we have the Cuban exile associated with the CIA using a patsy. Afterwards, it is reported by sources, that Mr. Perdomo moved to Algiers, Louisiana and joined the Chocolate City Chapter of the DRE.
Is it just a coincidence, that Cuban exiles/CIA happen to be associated with the death of two 60's icons about to revive their careers?
Mr. Davies was held all day and all of the night. Things started to go wrong. The DRE people were busy looking at the menu of different mind control training options. They had ruled out the Shirley Temple training option and had narrowed it down to some of that Helter Skelter training or the Mark Chapman technique. The Chapman training seemed more appropriate, but there was a special on the Helter Skelter training that week. With every Helter Skelter training package, you received a free Hilary Duff poster. While they were working this out, Mr. Davies began to move.
The kidnappers did not realize that Ray had a disease for which he needed medicine. The dreaded disease he had, which was hidden from the public, was Restless Legs Syndrome (RLS). Uncontrolled by his medication, the disease caused wild movements and gyrations in his legs and sometimes the hips. As time passed, the movement started and Ray was quite embarrassed by the looks he was getting from his captors. To try to mask the problem, and being a singer, he started singing a medley Elvis Presley songs making the captors believe he was doing an Elvis impersonation. This went on for hours, but while doing his 16th version of "Hound Dog," his heart finally gave out and he passed away on January 5, 2004.
The DRE kidnappers panicked and decided to dump the body in the French Quarter figuring he would just be considered another tourist murder victim so common in the city. The mini-van sped down Bourbon, pulled over to a rare open parking space, dumped the body in front of a bar and sped off. A few of the people on Bourbon realized it was not just another drunk tourist who passed out, and started a bit of a commotion. A burly looking female looking like she had five-o'clock shadow, was drinking a cherry-cola in one of the more "colorful" bars located on Bourbon Street. She heard the commotion and came out. After one of the bystanders said that it was Ray Davies of the Kinks, the burly woman started shouting, "He's not Lola, I'm Lola, I'm Lola" and began to weep.
CIA operatives had heard the reports of Davies being found dead and quickly appeared to collect the body.
Their plan of a mind controlled pop icon was now destroyed. Now they had to come up with a plan B. They decided to use the "Faul" plan and create a replacement that they could control. They needed a good guitar player, so they picked a fine long time local musician who was Band Director at a local high school for many many years. This man, who was about the same age as Davies, suddenly and mysteriously "retired" at about this time and none of his students and friends have heard about him since. They shaved his ever present beard and mustache, added a rubber chin and touched up other differences using plastic surgery, according to Kinks researcher PID Commander.
The plan was a success complete with the trumped up cover story about being shot in the leg by muggers. Smugly saying "That accident gave me the strength to come back and play," he started recording in New Orleans and Ray Davies has released his first solo studio recording, "Other People's Lives." The CIA/DRE were pleased and Yoko (THE BITCH!) was informed. She invited "Faul" over to her apartment, and the two toasted Mr. Davies' death and replacement, and another job well done.