Post by Deleted on Sept 10, 2005 22:06:40 GMT -5
WELCOME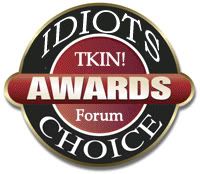 WELCOME
Announceress: "Live! From the Conspiracy Center in Bunkerdownbank, California...it's the first annual: PID Idiots Choice Awards! And now, please give a big warm welcome to tonights host.......*** Drumroll *** Miss Vaggie!!"

*** Grudging applause from the audience primarily consisting of PIDers, celebrities and the morbidly curious. ***

Miss Vaggie: "Hello. And welcome to the first annual TKIN Idiots Choice Awards. Tonight, we (Diss) honor the worst in paranoid, misguided and generally speaking, empty-headed attempts to prove that Sir James Paul McCartney is no longer among the living, or simply replaced by a guy who looks, acts, sounds, walks, talks, sings, speaks, plays guitar, piano and drums just like the other dude - who's supposedly floating around Jupiter's orbit as we speak. Possibly Mars. Or, as some feel, perhaps he isn't turning circles around any given frozen, or gas-filled heavenly body. Perhaps he's hiding out on a ranch in the heart of Scotland, smoking doobies and remaniscing about the old days with Fartha the 5th - his beloved sheepdog.

Most of us here tonight have considered at some point the dreaded possibility that Paul McCartney was either the victim of a car accident, or possibly a bad case of gas - thus the orbiting around Jupiter theory. StuPIDitis is a disease that affects thousands of people around the World. I too recently suffered from a bout of this dreaded StuPIDitis affliction recently. But I'm ahhh...all better now!
;D

And now, for those who persist in continuing to live in the magical land of PID where poppies grow 3 feet wide and yummy, sugary lollipops grow 10 feet high - only to clash with the spooky violet-colored trees that jump out of nowhere to attack innocent and well-meaning DNA collectors; congratulations! Tonight is your night.

Now, for tonights first award, please welcome our first presenters. One, is a gifted and humorous writer with a hankering for really bizarre online surfing. The other, is a mutant-infant from a distant planet who's never met an opponent he couldn't overcome with a stinky diaper, and a cold hard glare. Please welcome: NightBazaar and Baby Wiggle!"

NightBazaar: "Thank you. It's a serious pain in the a** to be here tonight, folks, but what are you gonna do, right?!

**Dead silence**

Okaaaayy, you bunch of backwater sourpuss's! Wake up you snoring platypus's! What a bunch of pathetic and egomaniacal-doohickeys! Lets get started then! The first award for you bunch of selfish deadbeats is for: 'Poorest Excuse For A Living Organism Disguised As An Online Poster Under A Big-Top Circus Tent Disguised As An Online Research Forum'! The nominees are: Flabby Assamongus!"

Baby Wiggle: "Goo goo, gaaaphll gaaa gaaa, I mean uhh.. !^%#$!!@, BeatlePaul/TKIN Admin/60ifHeadMaster/Sunking etc...how many *u*king names does this airhead have, anyways?! Sheesh!

NightBazaar: "Who really knows, Baby Wiggle. He's an idiot! Next numbskull nominated is local circus clown and resident TKIN nutcase, Total (Dissed)Information!"

Baby Wiggle: "And the final nom' goes to Mad John! Wow! tough competition!"

NightBazaar: "And the loser..I mean, heh, heh, winner is....BEATLEPAUL aka Sunking, yada, yada, yada!"

BEATLEPAUL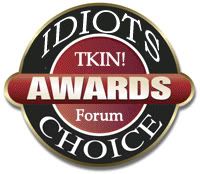 SUNKING
[/u]

BeatlePaul couldn't be here tonight accept his award due to the fact that he's currently 'writing a novel about his experiences as a great and wise PID detective', lol. No doubt he's sifting through peoples garbage as we speak looking for fully legal 'deadvidence'! Well, good riddance! He's a turd! A nincompoop! A never-has-been..a..."

*** Commercial for Depends Xtra Absorbent ***

Miss Vaggie: "Please welcome our next presenters. They are two of the most exemplary and well loved of all PIAers on the WWW. As well as contributing themselves selflessly to many cyber-causes, they also have totally cool online Usernames! Hipmama and Kimmieneutron!"

Hipmama: "Well, I certainly have better things to do than be here tonight, but since Baby Wiggle asked (Or should I say ordered

) me so nicely, here I am."

Kimmie: "Personally, Hipmama, if it were up to me I'd send BW into the audience with an armful of stinky diapers in the hopes of knocking some sense into these basketcases - but the FCC won't allow it! That just Sucks! Okaaaay...so here are the nominees for the 'Dummest Theories' On TKIN this year. Or any other for that matter!
;D

The first nominee is: SunkingThingamaBeatlePaulaBoberooni: 'Bozo Dah Dog Band And Linda Ronstadt Are Really Vivian Stanshall's 2nd Cousin's, Best-Friend's, Uncle's, Pet-Parakeet Disguised As Ernie And Bert'! Whatever you say, Sunnyboy, lol!"

Hipmama: "Oooohhh... sounds to me like somebody's gone waaaay off their medication, ha ha! The next nominee is Totally (Dissed) Information for his theseus: 'The Illuminati Ate My Lunch (Or How Fluoride Makes You Think Paul Ain't Dead When We All Know That Sylvia Vartan Is Hiding In the Wad Of Gum Hidden Under My Desk Which Doubles As A Hammock And Triple-Foil Beanie Cap!')

Kimmie: "TDI was MY vote for the 'Get Well Soon' award, but whatever! The next nominee is TurdsManiac for his thread: 'Proof That Denny Laine IS Actually Yoko Ono Disgised As My Pink Bunny Slippers!' "

Hipmama: "And the winner is, TDI! As I sorta figured, TDI couldn't be here tonight 'cause he's afraid we'll all pour water on him and he might melt...or is that Flabby? Nope. Wait. She's here! Anybody wanna send Flabby over a tall glass of ice-cold water and see what gives?!"

Flabby: **From 17th Row** "NO WATER!! Back! Back! Stay away! Waaaagghhh!"

Hipmama: "Well, personally I've had enough of this Idiocy for one night. You can all go soak your heads for all I care!"

Kimmie: "That goes double for me!"

Flabby: " NNOOOOOOO WAAAATER!!"

*** Commercial for Diet Croak ***

Miss Vaggie: "Our next presenters are two of the most well respected and knowledgeable PIA evidence providers on the WWW today. One is a powerfully creative force to be reckoned with, the other is also just as creative in his own way, just more vocal about it!
;D

Please welcome: Flaming Pie And Frightwolf!"

Flaming Pie: "Well it's great to be here, isn't it, Frighty! So much talent in one room, it's just unbelievable!"

**Smirks **

Frighty: "Yeah, right, FP! It's a real blast to finally be able to gaze out on all the faces that are responsible for so much stuPIDity in our cyber-World today! Btw, where's Flabby?!"

Flaming Pie: "She's right over there in row 17!"

Frighty: "Which aisle! Which seat!"

Flaming Pie: "The whole row! All of it! That's her wearing the quilted tablecloths from Faul-mart, lol!"

Frighty: "For THE LOVE OF...-_- !
Somebody call Guinness Book Of Records! Or at the very least Richard Simmons!"

Flaming Pie: "That's just rude, dude, I agree! And now..the following awards were handed out earlier tonight because they are more than any viewing audience can stomach...

For the' Lamest Attempt To Prove Paul Is Dead or Dormant'! BeatlePaul/Sunthing! Thread: 'Paul Was A 200+ IQ Cosmic SnuggleBunny From Mars - Bill's Just an Overrated (H)areHead From Uranus!'

Also winning tonight for his badly mangled and often inconprehensionable attempts to pass off 60if as the Full Legal Truth: BeatlePaul/Sunking! SunnyBeatle Whatshisface won the coveted ' PID Dopehead Deciever' Award "

Frighty: "For her ongoing obsession with all of Pauls '2000 Parts', Flabby was awarded the TKIN 'Drooling Leverage' Award!"

Flaming Pie: "The Lousy FadeMakers' Lifetime Achievment Award went to Really, Really, StuPID!"

Frighty: "The 'Get Well Soon' Award was presented to Flabby! Wow, the Funking and Flabby sure are cleaning up tonight! Maybe the other TKIN members just aren't pulling their weight."

Flaming Pie: "That's ok, Frighty! Flabby's got it all covered!"

Frighty: "I'm saying, Bro! And she's takin' up half the auditorium to boot!"

*** Commercial for the Teletubbies
(Sponsored by the Faulluminati) ***

*** To Be Continued ***
More Idiocy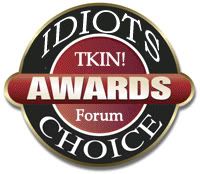 Stay tuned