Post by itaigalgal on Sept 3, 2008 15:34:08 GMT -5
**Warning, it includes some dirty stuff, please take all the little kids and tell them to watch Barney or something while you're reading this! Also, I'm from Israel so you'll find some mistakes in English some time. Sorry for that.**
The Beatles really hidden a lot of clues pointing on Paul McCartney, but all the conspiracy theorists just made the wrong theory!
I present, in the first time for you,
the real truth about Paul McCartney...
PAUL IS GAY!
In early 1966 Paul McCartney, the Beatles' song writer and bassist, had shrimps for lunch. Brian Epstein, who was a Jew, got mad because shrimps is not a "Kosher" food.
He had a big fight with Paul, and in the end Paul got out of the studios, very upset, and got into his car.
It was 5 AM, and it was raining. He saw someone running without and umbrella.
He asked the guy to get into the car.
Suddenly, he saw that the guy was Michael Jackson. Paul got shocked and his car crashed into an ice-cream van.
Paul's brain got hit and changed, and Paul turned into a gay.
The Beatles found out about it and decided to replace him with a look alike, named William Condomel, because they didn't want the fans to think that they're a gay band.
Paul McCartney broke up with Jane Asher, and married Brian Epstein. Brian Epstein and McCartney didn't want people to know they're gays, so Brian had a plastic surgery that helped him becoming a woman, called Linda Eastman.
After a while, they decided that the fans should know the truth, so they started to put clues in their albums.
The first album that was released after the accident is "Yesterday and today". The cover included cutted dolls, which was referring to Paul being gay and playing with dolls like a little girl.
The cover was replaced with a picture of The Beatles standing near some kind of a box, and Paul in it.
The box syombolize a closet, which means Paul didn't came out of the closet yet, because he doesn't want people to know he's gay.
McCartney, still in the closet?
After that, Revolver was released and included some clues too.
Eleanor Rigby - "Father McKenzie wiping the dirt from his hands"
McKenzie is referring to McCartney, and let's just say that The Beatles meant to some other "dirt" on his hands...
In I'm Only Sleeping, John is joking about Paul sleeping with other men.
Got To Get You Into My Life -
"I was alone, I took a ride,
I didn't know what I would find there
Another road where maybe I could see another kind of mind there
Ooh, then I suddenly see you,
Ooh, did I tell you I need you
Every single day of my life"
Paul took a ride, suddnely saw Michael Jackson, and he got "another kind of mind" - a gay mind, and fell in love with Michael.
After a while, a single of Penny Lane and Strawberry fields forever got released.
In Penny Lane, Paul says "A pretty nurse is selling poppies from a tray".
Of course, Paul doesn't care she's pretty, because he's gay.
And in the end of Strawberry Fields Forever, you can hear the voice of a man says "I married Paul".
And the album that included most of the clues, is of course...
Sgt. Pepper's lonely hearts club band.
Please look at the big detailed cover -
n4abc10.abc.es/Hemeroteca/imagenes/abc/01062007/Gente/11771105.jpg
Theorists used to mistakely thought that the cover was Paul's funeral. But actually, the cover is describing a pride parade!
A lot of people in colorful clothes, Paul holding a long thing, probably symbolizing a penis, Ringo wearing pink clothes and hugging Paul, flowers everywhere.
Also, you can see the old Beatles next to the currect Beatles.
George, putting his hand in a very speciefic place, John, doing a gay face, Ringo, sad because he was known for hating gays, and Paul, putting his hand on Ringo's shoulder.
And finally, the man behind Paul is looking straight at his butt.
The Beatles did that just to show that they don't have anything against gays.
"Fixing a hole" is referring to some other hole that Paul wants to have...
The Magical Mystery Tour includes, also, a lot of clues.
Look at the words "Magical Mystery Tour". Doesn't the colors look familiar?
Exactly, the pride flag.
It was said later in Glass Onion that Paul McCartney was the walrus, and in many religions, a walrus is a gay symbol, though no religion admitted it yet.
We pass on to the double white album. Remember, Paul was a white man, and he was replaced by a double.
The album includes one picture per Beatle. If you'll look carefully, you can see that Paul has lipstick on his lips.
Clues in the songs -
While My Guitar Gently Weeps - in the end you can hear George saying "Oh! Oh! Oh!", jokingly imitating Paul in bed.
In the end of I'm So Tired you can hear John saying some gibberish. When played backwards, it says "Paul is gay, man. Kiss him, kiss him, kiss him".
In "Long, Long, Long"... I'm sure you can find it out by yourself.
When Revolution 9# is played backwards, "Turn me on, dead man" could be heard. Referring to Paul being a necrophile?
Abbey Road is released. On the cover, Paul is wearing no shoes, which means he's different, or something.
"Come together, right now, over me" referrs to the orgys Paul had been in, and "Oh Darling" is sung by Paul to a man.
And the last album, Let It Be -
On the cover, the three Beatles have a white background, except for Paul. His background is red, a feminine color. Also, Paul is looking to a different direction than the others, means he's looking at men and the others are looking at women.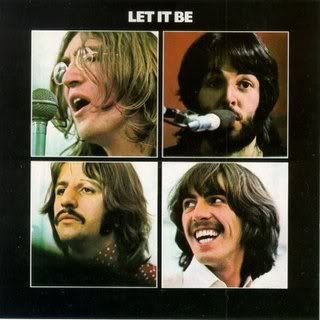 In the songs -
"Two of us" tells about a couple of gays,
"I've got a feeling" tells about his feelings to other men,
And finally, in Get Back, Paul says -
"Sweet Loreta Martin thought she was a woman, but she was another man".
Paul is referring himself as a woman, stuck in a man's body.
Loreta Martin is George Martin's lost sister, Paul wrote the name just to hide the fact that it was told about him.
And that's the whole theory, the real truth about Sir Doctor James Paul Gay McCartney!
If anybody has anymore clues you're welcome ;D